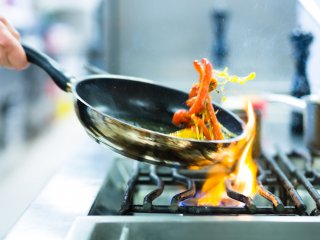 Description
Objectives
Outline
Materials
Approvals
System Requirements
Watch a Demo
Our online Professional Cooking Entrepreneur Program will take you through the full spectrum of food preparation and presentation while also helping you to create and succeed at the type of business you want. 
Professional Cooking Part I
The food-service industry continues to expand with a wide variety of new restaurants opening every day. Learn the cooking principles you need to begin your career in this exciting industry with our Professional Cooking course. Learn the basics for planning dishes and menus, selecting quality ingredients, and preparing and presenting food in exceptional ways. This course explores professional techniques and methods for creating hundreds of recipes both traditional and contemporary. From cooking meat, poultry, and game, to preparing purely vegetarian dishes, to baking cakes, pies and pastries, this two part Professional Cooking course will take you through the full spectrum of food preparation and presentation while inspiring you to create recipes of your very own.
Professional Cooking Part II
This course explores professional techniques and methods for creating hundreds of recipes both traditional and contemporary. From cooking meat, poultry, and game, to preparing purely vegetarian dishes, Part I will take you through the full spectrum of food preparation and presentation while inspiring you to create recipes of your very own.
Start Your Own Business
Have you ever eaten a Mrs. Fields cookie? Used a MacBook? Listed to a podcast? Entrepreneurs brought these products to your world. People that start their own businesses and work for themselves are called entrepreneurs. For an entrepreneur the sky is the limit as far as earnings and potential success. An entrepreneur is someone who has recognized an opportunity to start a business that other people may not have noticed. Entrepreneurs can shape and create an opportunity where others see little or nothing -- or see it too early or too late. Our Start Your Own Business course will help you create the business you want. Throughout this course you will be working on your business plan and creating a quick comprehensive overview of the elements you want in your new business.
Prerequisite: None
Professional Cooking Part I
After completing this course, you should be able to:
Identify proper food handling, measurements and how to create a balanced diet
Recognize the principles of cooking and food science
Recall the steps for preparing stocks, sauces and soups
List the basics for properly handling vegetables
Identify the structure of various meats and proper cooking techniques
Professional Cooking Part II
After completing this course, you should be able to:
Identify the various ways to prepare and cook fish and poultry
Recognize the basic ways to create salads, sandwiches and breakfast foods
Recall the steps for cooking vegetarian meals and buffet presentation
List common baking principles and formulas for preparing breads and cakes
Identify the characteristics of cookies, pies and puddings
Start Your Own Business
After completing this course, you should be able to:
Define entrepreneurship
List the steps for developing a business plan
Recall methods for marketing your business
Recognize the concepts behind financing strategies
Differentiate between potential strategies for growing your business
Professional Cooking Part I
Professional Cooking Module 1
The Food Service Industry
History of Modern Food Service
Organization of Modern Kitchens
Standards of Professionalism
Sanitation
Food Hazards
Personal Hygiene
Food Handling and Storage
Preventing Injuries
Cooking Equipment
Measuring Devices
Professional Cooking Module 2
Menus, Recipes and Nutrition
Menu Forms and Functions
Building the Menu
Measurement
Kitchen Math
Nutrients
Balanced Diets and Menus
Professional Cooking Module 3
Principles of Cooking and Food Science
What is Heat?
Emulsions
Heat Management
Conventional Cooking Methods
Building Flavor Profiles
Using Herbs and Spices
Mise En Place
Using the Knife
Professional Cooking Module 4
Stocks
Ingredients
Procedures
Reductions and Glazes
Convenience Bases
Professional Cooking Module 5
Sauces and Soups
Sauce Structure
Sauce Families
Sauce Production
Understanding Soups
Clear Soups
Thickened Soups
Professional Cooking Module 6
Vegetables
Controlling Texture Changes
Controlling Flavor Changes
General Rules of Vegetable Cookery
Handling Vegetables
Fresh Vegetables
Storage
Boiling and Steaming
Sauteing and Pan-Frying
Braising
Deep-Frying
Professional Cooking Module 7
Potatoes, Legumes, Pasta
Understanding Potatoes
Cooking Potatoes
Dried Legumes
Grains
Pasta
Noodles
Dumplings
Professional Cooking Module 8
Cooking Methods for Meat, Poultry, Fish
Roasting and Baking
Simmering and Submersion Poaching
Barbecuing
Pan-Frying
Steaming
Composition and Structure
Cooking and Handling Meats
Cooking Meats and Game
Professional Cooking Part II
Professional Cooking Module 9
Poultry and Game Birds
Composition and Structure
Inspection and Grading
Classification and Market Forms
Handling
Storage
Doneness
Trussing Methods
Cutting Up Chicken
Roasting and Baking
Broiling and Grilling
Dressings and Stuffings
Professional Cooking Module 10
Fish and Seafood
Cutting Fish
Varieties of Fish
Shellfish
Mollusks
Cephalopods
Crustaceans
Miscellaneous Seafood
Cooking Approaches
Steaming
Seafood Served Raw
Professional Cooking Module 11
Dressings, Salads and Sandwiches
Oil and Vinegar Dressings
Emulsified Dressings
Other Types of Dressings
Ingredients in Salads
Arrangement and Presentation
Recipes and Techniques
Breads
Spreads
Fillings
Types of Sandwiches
Making Sandwiches
Professional Cooking Module 12
Hors d 'Oeuvres and Breakfast
Serving Hors d'Oeuvres
Canapes
Cocktails
Relishes
Dips
Cooking Eggs
Pancakes
Waffles
French Toast
Cereals
Breakfast Meats
Professional Cooking Module 13
Dairy and Cooking for Vegetarian Diets
Milk
Cream
Butter
Cheese
Coffee
Tea
Understanding Vegetarian Diets
Menus for Vegetarian Diets
Professional Cooking Module 14
Sausages, Cold Foods and Presentation
Curing
Smoking
Pates
Terrines
Aspic
Special Forcemeat Dishes
Hot Food Presentation
Cold Food Presentation
Buffet Arrangement
Buffet Appearance
Professional Cooking Module 15
Baking Principles
Formulas and Measurement
Mixing
Gluten Development
The Baking Process
Staling
Yeast Product Types
Steps in Yeast Dough Production
Dough Formulas and Techniques
Rolled-In Doughs
Makeup Techniques
Professional Cooking Module 16
Breads and Cakes
Quick Breads
Mixing and Production Methods
Formulas
Understanding Cake Making
Cake Formula Types
Baking
Cooling
Common Cake Faults
Altitude Adjustments
Scaling
Professional Cooking Module 17
Cookies, Pies and Puddings
Cooking Characteristics
Types and Makeup Methods
Panning
Assembly
Fillings
Puff Pastry
Éclair Paste
Meringues
Fruit Desserts
Custards
Frozen Desserts
**Outlines are subject to change, as courses and materials are updated.**
Start Your Own Business
Start Your Own Business Module 1
Entrepreneurs and Entrepreneurship
Defining Entrepreneurship
Free-Enterprise System
What is a Small Business?
Paths to Enterprise Ownership
Benefits and Costs of Becoming an Entrepreneur
Lean Startup Methodology
What is a Business Plan?
Business Plan Components
Start Your Own Business Module 2
Creating Business and Exploring Your Market
What Defines a Business?
Business Opportunity Decision Process
Your Competitive Advantage
Determining the Value of a Business
Product Life Cycle
Customer Research
Segment and Industry Research
Market Positioning
Start Your Own Business Module 3
Marketing Mix and Smart Selling
The Marketing Mix
Product, Price, Place, Promotion
Advertising and Sales Promotion
Publicity Potential
Developing a Marketing Plan
Sales Call
Creating a Sales Force
Customer Relationship Management Systems
Start Your Own Business Module 4
Costs and Financial Statements
Start-Up Investment
Estimate Value
Fixed and Variable Costs
Calculating Critical Costs
Income Statements
The Balance Sheet
Financial Ratio Analysis
Balance Sheet Analysis
Start Your Own Business Module 5
Cash Flow, Taxes, and Financing Strategies
Cash Flow
Working Capital Cycle
Using a Cash Flow Statement
Capital Budgeting
Gifts and Grants
Debit and Equity Financing
Investing
Start Your Own Business Module 6
Legal Issues and Operating for Success
Business Legal Structures
Contracts
Commercial Law
Intellectual Property
Protecting Tangible Assets
Licenses, Permits, and Certificates
Production-Distribution Chain
Supply Chain Management
Defining Quality
Start Your Own Business Module 7
Management, Leadership, Financing, Licensing
The Entrepreneur as Leader
Business Management
Creating and Managing Organizational Culture
Ethical Leadership
Social Responsibility and Ethics
Focus Your Brand
Harvesting and Exiting Options
Creating Wealth by Selling a Profitable Business
**Outlines are subject to change, as courses and materials are updated.**
Ed4Career is committed to being both environmentally conscious and making it easier for you to study! We're making your education mobile! All of our textbooks are now provided as eTextbooks*. You can access them on your laptop, tablet, or mobile device and can study anytime, anywhere.
The move away from physical books to eTextbooks means you get the latest, most up-to-date version available. This also makes your training more accessible, so you can study anywhere you have your phone or tablet. The best part is that all materials are included in your training cost so there are NO extra fees for books!**
*A few courses still have physical materials.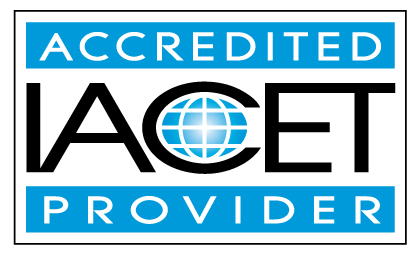 Ed4Career has been approved as an Accredited Provider by the International Association for Continuing Education and Training (IACET). In obtaining this accreditation, Ed4Career has demonstrated that it complies with the ANSI/IACET Standard which is recognized internationally as a standard of good practice. As a result of the Accredited Provider status, Ed4Career is authorized to offer IACET CEUs for courses and programs that qualify under the ANSI/IACET Standard.
The Continuing Education Unit (CEU) was created by IACET as a measurement of continuing education. One (1) IACET CEU is equal to ten (10) contact hours of participation in an organized continuing education experience under responsible sponsorship, capable direction, and qualified instruction. Under IACET's care, the IACET CEU has evolved from a quantitative measure to a hallmark of quality training and instruction. For more information on IACET, visit www.iacet.org.
Internet Connection
Broadband or High-Speed - DSL, Cable, and Wireless Connections
*Dial-Up internet connections will result in a diminished online experience. Classroom pages may load slowly and viewing large audio and video files may not be possible.
Hardware Requirements
Processor - 2GHz Processor or Higher
Memory - 1 GB RAM Minimum Recommended
PC Software Requirements
Operating Systems - Windows 7 or higher
Microsoft Office 2013 or higher. Also, you could use a general Word Processing application to save and open Microsoft Office formats (.doc, .docx, .xls, .xlsx, .ppt, .pptx)
Internet Browsers - Google Chrome is highly recommended

Cookies MUST be enabled
Pop-ups MUST be allowed (Pop-up Blocker disabled)

The Kindle Reader App or VitalSource Bookshelf App are needed for many of our courses (No special equipment needed. This can be downloaded for FREE onto your computer.)
PowerPoint Viewer (if you do not have PowerPoint)
QuickTime, Windows Media Player &/or Real Player
MAC Software Requirements
Operating Systems - Mac OS x 10 or higher with Windows
Mac office programs or a Word Processing application to save and open Microsoft Office formats (.doc, .docx, .xls, .xlsx, .ppt, .pptx)
Internet Browsers- Google Chrome is highly recommended

Cookies MUST be enabled
Pop-ups MUST be allowed (Pop-up Blocker disabled)

The Kindle Reader App or VitalSource Bookshelf App are needed for many of our courses (No special equipment needed. This can be downloaded for FREE onto your computer.)
PowerPoint Viewer (if you do not have PowerPoint)
Adobe PDF Reader
Apple QuickTime Media Player